12 Days of Mocktail Magic
Looking for a gift for the Mixhers lover in your life? This beautiful box set comprises 12 days of Mixhers mocktails in a whimsical advent experience. Try our best-loved product pairings and enjoy new flavor and benefit combinations.

Includes (24 sticks total): Hertime, Hergreens, Herpleasure, Herboost, Herpower, Herdigest, Hermulti, Herhydration, Hernightly, Herguard, Mixkids, Herthrive
* These statements have not been evaluated by the Food and Drug Administration. This product is not intended to diagnose, treat, cure, or prevent any disease.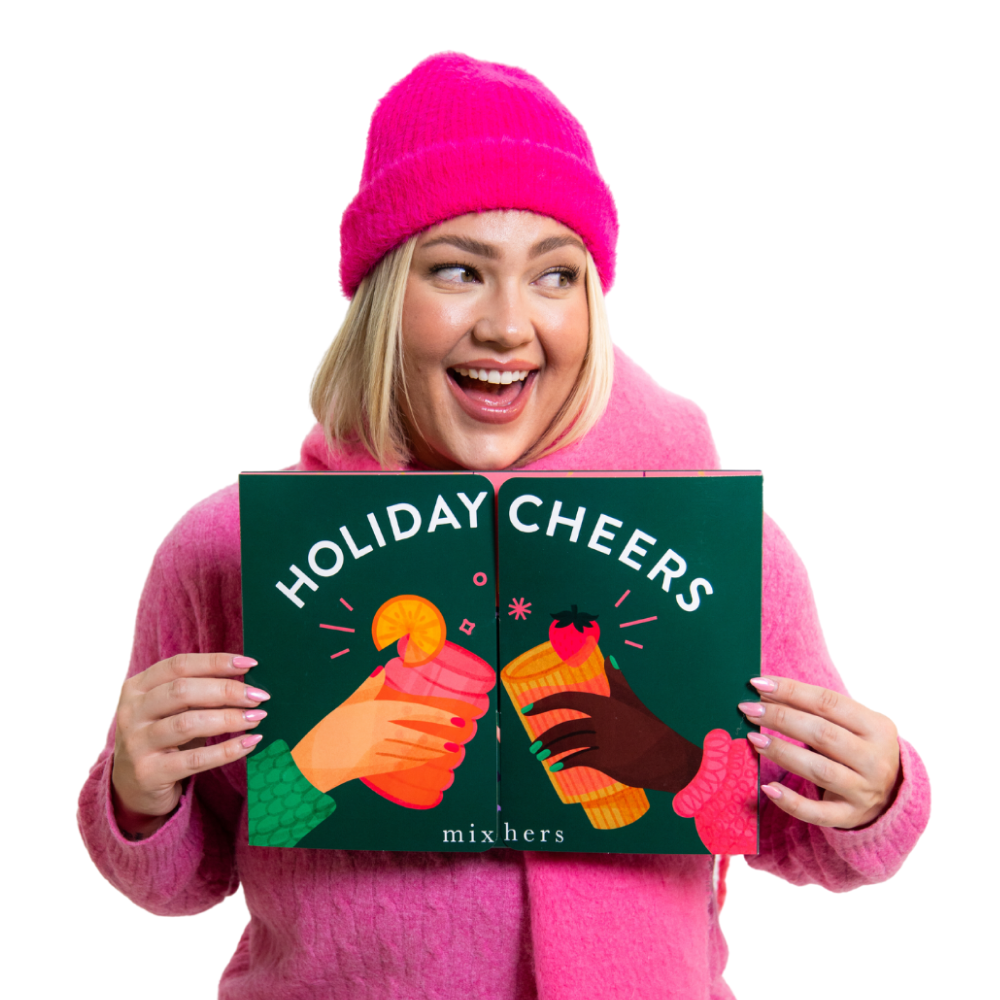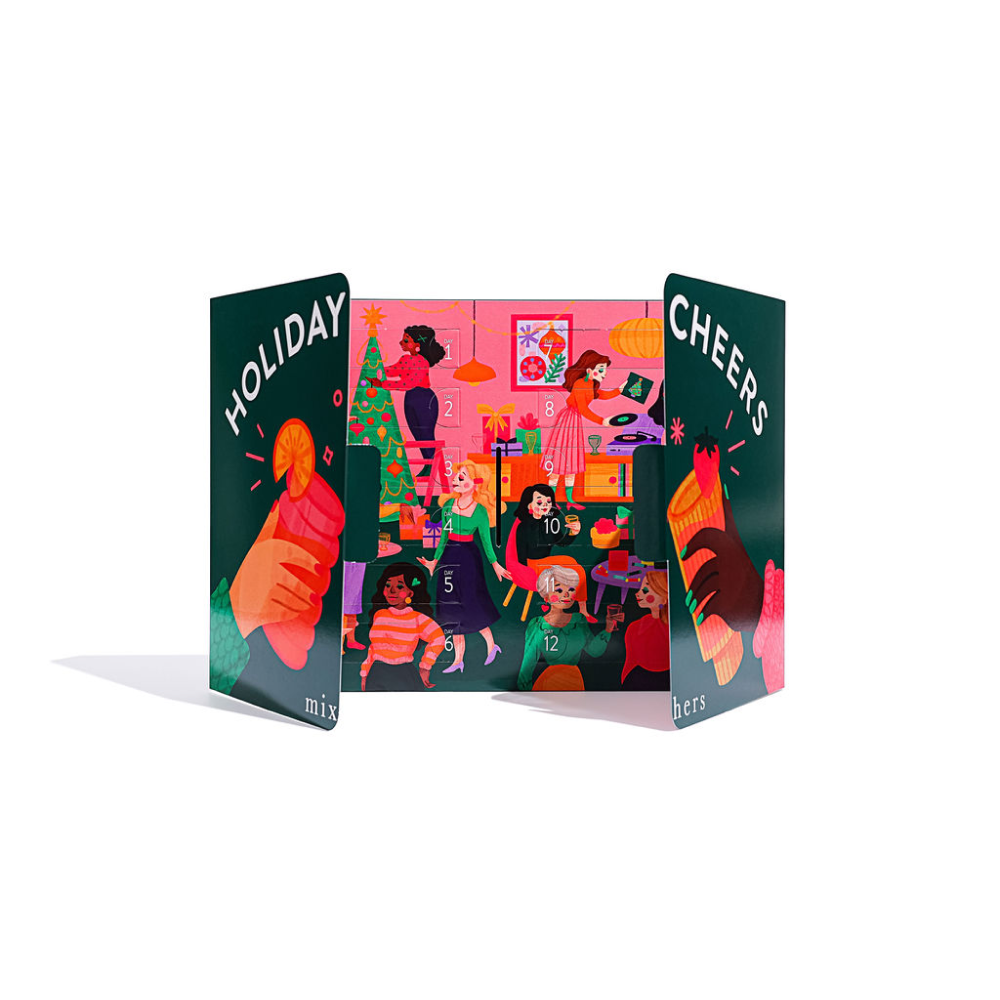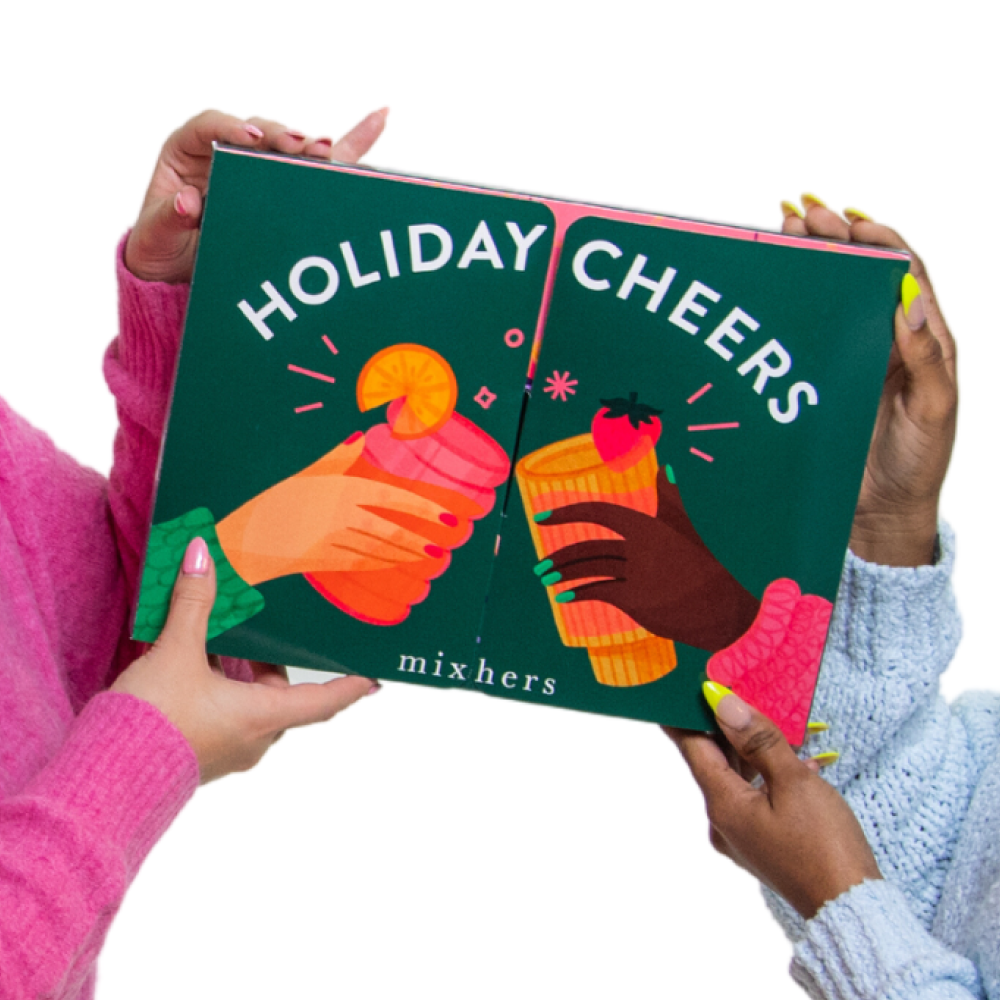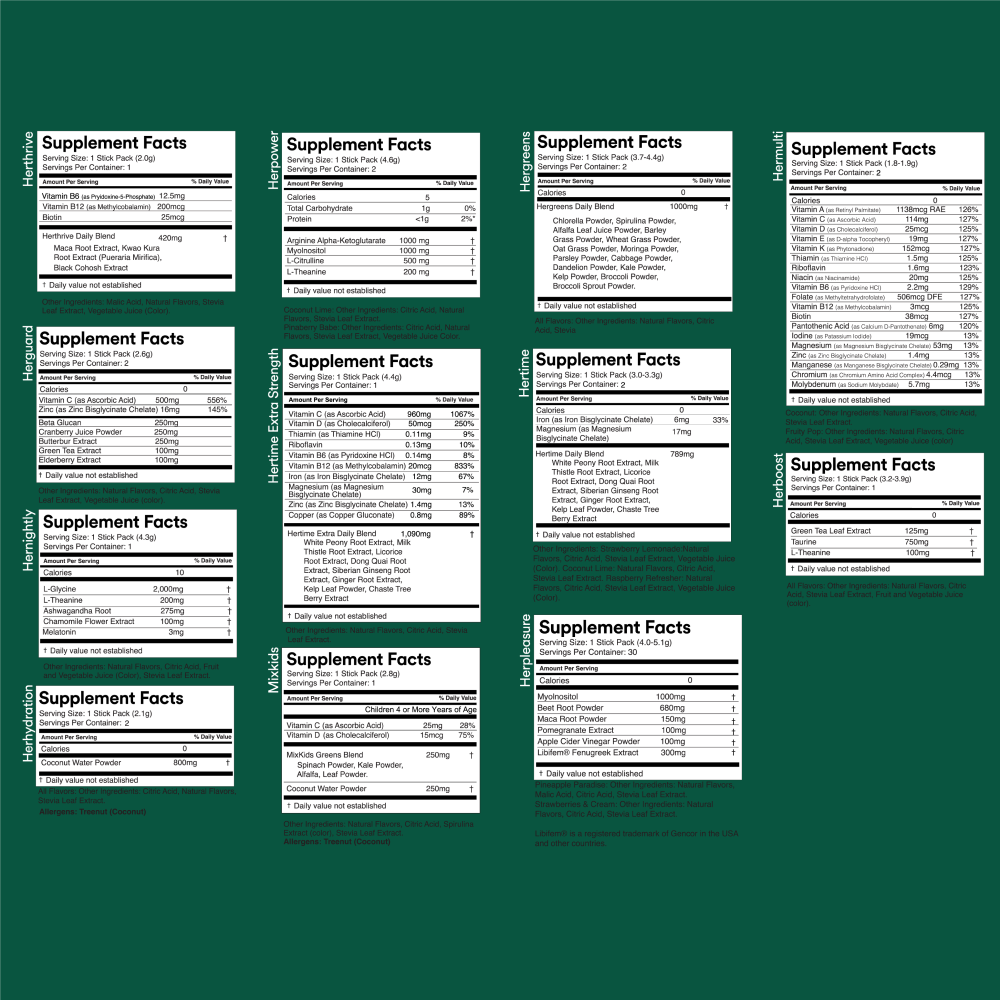 How It Works
Stack those sticks. Double up on benefits.
Mixhers supplements were made to mix together, allowing you to stack your supplements in a beautiful personalized, highly absorbable, and addictively delicious drink. We've made it convenient and enjoyable to give your body what it needs habitually.
---
Mix with 16-24 oz of water & enjoy!
---
It's what's inside that counts.
key ingredients
hertime
White Peony Root, Chinese Licorice, Siberian Ginseng, Dong Quai Root, Giant Kelp Leaf
hergreens
Spirulina, Wheat, Oat, & Barley Grass, Parsley, Cruciferous Vegetables, Chlorella
herpower
Myo-inositol, L-Theanine, Arginine
herpleasure
Libifem®, Inositol, Maca Root Extract, Pomegranate
hermulti
Folate, Vitamin B12, Vitamin D3, and Vitamin K, Vitamin E
herhydration
Potassium, Sodium, Calcium, Magnesium
hernightly
Ashwagandha, Chamomile, Melatonin
herguard
Vitamin C, Zinc, Beta Glucan, Green Tea, Butterbur, and Elderberry
herdigest
Bacillus Coagulans, Acacia Gum, L-Glutamine, Licorice Root, Quercetin, Marshmallow Root
herthrive
Maca Root Extract, Kwao Krua Root Extract, Black Cohosh Extract, Vitamin B6, Vitamin B12, Biotin
herboost
Green Tea Extract, Taurine, L-Theanine
mixkids
Vitamin C, Vitamin D, Proprietary Greens Blend, Coconut Water
This is old wisdom.
Herbal medicine is as ancient as women themselves. In cultures around the world, the two seem to go hand-in-hand. Mixhers has tapped into this sage wisdom of Chinese medicine and made holistic herbal supplements accessible, convenient, and delicious!
Hormone-Healthy
100% Natural
No Sugar Added
Toxin-Free
No Artificial Colors or Flavors
Made in the USA
Recyclable Packaging
Hormone-Healthy
100% Natural
No Sugar Added
Toxin-Free
No Artificial Colors or Flavors
Made in the USA
Recyclable Packaging